Michelle L Steffes, CPS, CPLC has been empowering people and teams for over 20 years as a leader and business builder. She is a frequent speaker and workshop presenter at conferences and corporate events.
Her straight-from-the-heart style involving stories and analogies along with insights into cognitive restructuring & human physiology produces environments where people and teams can thrive.
As the Founder and President of IPV Consulting and IPV Group Coaching, Michelle is well renowned for equipping thousands to meet or exceed their greatest potential in corporations, organizations, associations and individuals.
Educational background includes, Leadership and Business Management along with over 5 years of studies in Cognitive Behavior, Brain Science and Human Physiology.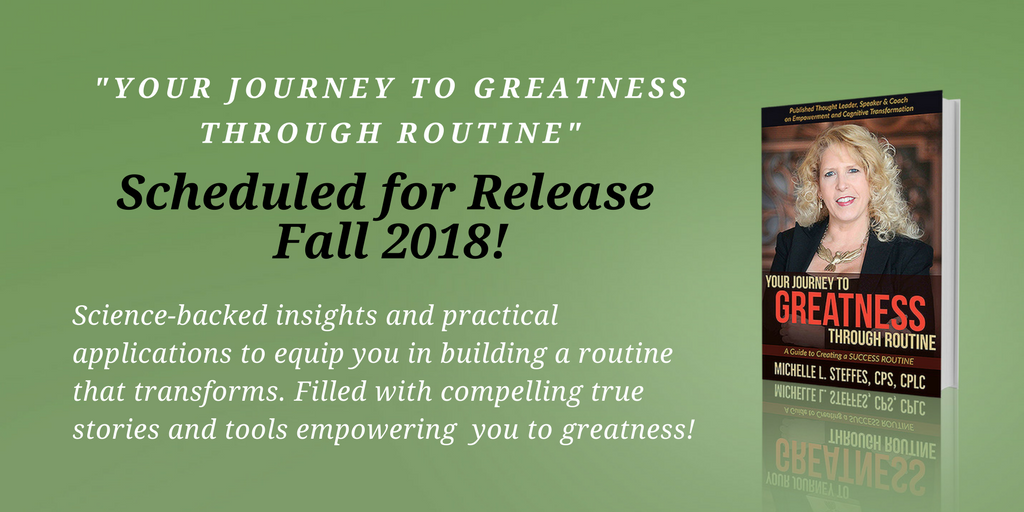 "Your Journey to GREATNESS Through Routine"
An in-depth study guide on daily habits containing the insights and power to equip you in building a routine that will empower you to greatness. This book is filled with compelling statistics, true stories, facts and elements of neuroscience and human physiology. You will discover irrefutable science-backed evidence that, if applied, will transform your state of mind and give you back control of your life, career and destiny.
Why Choose Michelle L Steffes & IPV Consulting?
Michelle L Steffes, CPS, CPLC and IPV Consulting are unparalleled in helping leaders, teams and individuals discover and maximize their potential. The techniques, tools, insights and training offered to clients are all founded in applicable practices utilizing human physiology and elements of neuroscience.
IPV targets the root of human behavior or organizational dysfunction

Each program is customized to the client and highly interactive, producing new perceptions and new responses which lead to altered habits.

IPV empowers clients to adopt the new concepts and patterns required for a higher standard of performance, both professionally and personally thereby producing intrinsic and extrinsic transformation.

Through IPV Consulting, Michelle offers a wide range of services including keynote and corporate speaking, group coaching, executive and life coaching, interactive workshops, and certified performance coaching for leaders and their team

s.